Child Nutrition Label, PFS and Recipes
POLICY:
NOCAC Head Start will follow all USDA Rules offering a combination of foods that have been registered per the Child Nutrition Labels.
PROCEDURES:
The Child Nutrition Label (CNL or PFS) will state the product's contribution toward the meal pattern requirements.
NOCAC Center Cook/Nutrition Aide will send any new CN Labels in with the monthly paperwork.
NOCAC Child Development does not get reimbursed when we purchase combination foods from local store such as the following:

Wal-Mart market pizzas
Burritos

Products with CNL/PFS may include:

Pizza
Hamburger/Sausage Patties
Cheese
Breaded items

Chicken nuggets
Fish sticks
Chicken patties

The Nutrition Aide will be responsible for the collection of Child Nutrition Labels from the school kitchen for combination foods at collaborative sites.

A copy the recipes, PFS or CNL will be kept on file at the site.
A copy of the CNL will be sent to the Health/Nutrition Assistant at the Central Office.

Child Nutrition labels needs to be taken from the box at 1st time use yearly, copied for self at site and sent in to Health/Safety Assistant.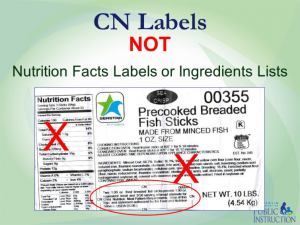 Forms and Additional Guidance:
This policy complies with the following

Head Start Program Performance Standard:
 
 
ODJFS Child Care Manual:
 
 
CACFP Regulation:
 
 
Caring for Our Children:
 
 
Other Sources:
 
 USDA
| | | | | | |
| --- | --- | --- | --- | --- | --- |
| Effective Date: |   | 8/7/17 | Reviewed Date: |   | 7/28/20 , 6/17/22 |
| Approved By Policy Council: |   | 8/7/17 | Revision Approved By Policy Council: |   |   |